22 Jan

Meeting Karen Allen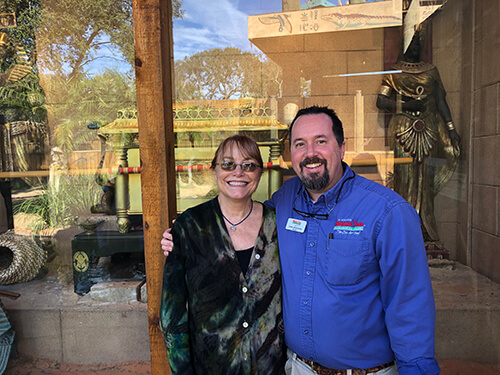 On January 18, 2019 Karen Allen came to the St. Augustine Alligator Farm.  John Brueggen, our Director, and his wife, Jen, took her and two of her friends (Joan and Charlynn) on a tour of the Farm.  Joan and Karen were in St. Augustine to participate in the 9th annual St. Augustine Film Festival.  Karen may be best known for her role as Marion in Raiders of the Lost Ark, but she has been in many other films, including Animal House, Starman, The Sandlot, Scrooged, The Perfect Storm, A Year By the Sea, and many others.  She is now directing films and she screened her first short film, as a director, at the Film Festival.  It is called A Tree. A Rock. A Cloud.
Karen seemed to be captivated by the animals at the Alligator Farm almost as soon as she walked in the door.  We took the time to do an Alligator Extreme photo with her and a twelve foot alligator named Handsome.  We then took her to see our Ark of the Covenant in our new Oasis on the Nile exhibit.  She was kind enough to take some photos near the Ark…we made sure she didn't look directly at it.  On our stroll through the Swamp, Karen asked if she could feed the alligators.  She seemed to really enjoy tossing the alligators the alligator chow.  Of course, we watched the video about Gomek and then we brought them to see Maximo.  We asked them if they wanted to feed Maximo and Karen and Joan jumped at the chance.  I'm not sure how many times we have watched the video of Karen feeding Maximo now, but it makes us smile every time.  You can tell she really enjoyed it.
Jen and John attended the Film Festival the rest of the weekend and John even had the opportunity to introduce Raiders of the Lost Ark with Karen.  After the film she told everyone about how she got to feed Maximo and that she had a wonderful time at our zoo.  She even mentioned that she and Joan are working on a movie that they would like to film here in St. Augustine!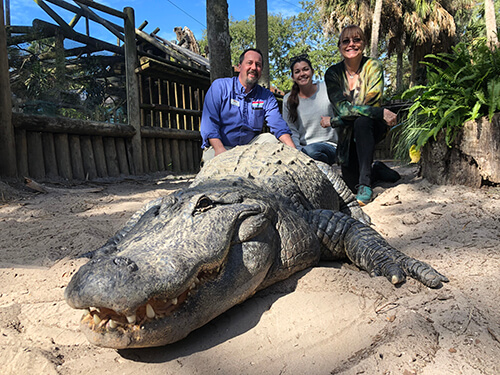 Video links:
Karen Allen feeding Maximo: //youtu.be/D59C66TnGvA
Karen Allen speaking about the Alligator Farm: //youtu.be/5MFANLgjT1A
John Brueggen introducing Raiders of the Lost Ark: //youtu.be/e49075g8aTM
Karen Allen Q&A after Raiders of the Lost Ark: https://youtu.be/nN7vxAN9iV0