Zoo Camps
TURN SCHOOL VACATION INTO AN ADVENTURE!
When school is out, Zoo Camp is in! Kids spend a day at the zoo creating crafts, playing games, viewing animal presentations and shows, trekking through the zoo, talking with keepers, and more. Our qualified educators guide groups of no larger than 12 students (per counselor) through an exciting, fun-filled adventure at The St. Augustine Alligator Farm Zoological Park.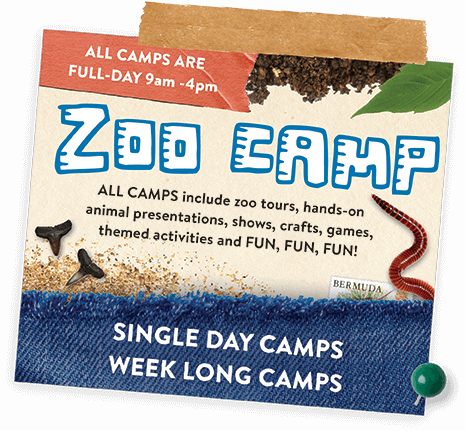 ZOO CAMP RULES:
1. Campers must wear closed-toe shoes with a back (no clogs/Croc-like shoes).
2. Campers must follow the instructions given by zoo staff.
3. Campers must take part in all scheduled activities.
4. Campers must stay with the group at all times.
5. Campers must be respectful of others, including staff, other campers, and animals.
6. Campers must keep their hands, feet, and objects to themselves.
7. No running or horseplay is permitted.
8. Before and aftercare are not provided.
SINGLE DAY CAMPS
August Single-Day Zoo Camp:
Starting on Monday, August 10th Zoo Camp continues for Single-Day "Wild Campers" edition. Each day will have its own unique theme that will revolve around a specific animal, species or ecosystem. Parents, you may sign your camper up for one day, two or all four in the week. Camp will run Monday – Thursday, 9am – 4pm (August 10th – 13th) and (August 17th – 20th). We will only start with 10 camper slots per day!
$50.00/ per day for Non-Members and $45.00 per day for Members.
To register, email us at tmia@alligatorfarm.com or education@alligatorfarm.com, listing this information: Guardian Name, Camper Name, contact information (phone and email), and which day(s) you would like to sign up for. Our Education team will respond as quickly as we can. Parents are to expect the same fun each day our weekly Zoo Camp holds, and the same safety precautions we have used all summer to keep our campers and staff safe.
ABOUT:
Our zoo camps combine outdoor education with entertainment where your kids will enjoy learning about wildlife, getting an introduction to zoological conservation, and making new friends! Zoo Camp is open for students entering 1st through 6th grade.
DATES:
2020: Jan 20th Jan 31st Feb 17th
March 13th April 10th April 13th
Booking for these camps will begin in 2020
WEEK LONG CAMPS
GRADES:
SPRING CAMP: Open to students entering 1st grade through 6th (Capacity – 32)
SUMMER CAMP: Open to students entering 1st grade through 6th (Capacity – 32)
WINTER CAMP: Open to students K through 5th (Capacity – 32)
WEEKLY COST:
$225 for members, $250 for non-members.
 A camp t-shirt is included in each weeklong camp session
SPRING CAMP 2020
JR Zookeeper
March 16th – 20th
Time to take the jump into the world of Zookeeping! In this camp, we will study the habitats and behaviors our of zoo animals. Design enrichment, puzzles and even learn all about animal training. Campers will observe our zoo animals and discover what animals need to lead healthy, fulfilling lives here at our park. As our most popular camp, be sure get your spot before it fills up!


SUMMER CAMP 2020

Camp Investi-gator

June 1st – 5th
Is your camper naturally curious? Looking for a summer time mystery to solve? This camp will spark the imagination and lead campers on an adventure throughout the historic Alligator Farm. For over 125 years, something has been haunting the swamp. It is up to our campers will figure out clues and uncover many mysteries along the way.
Wildlife Explorers

June 8th – 12th
Join our Wildlife Explorers week where campers will explore the natural world through nature play and observation. Campers will meet animals from all reaches and corners of the world and learn what makes each one special. This camp is perfect for those who are ready to explore and learn about the exotic world here in Florida.
Ickology

June 15th – 19th
Does your camper enjoy the "yuk" side of science? In our grossest camp ever, we will dive right into the stinky to slimy and the smelly to the dirty of the animal world. This camp is very hands-on so make sure your camper is ready to roll their sleeves up and get down and dirty at the Alligator Farm.
Camp Build-It

June 22nd – 26th
From Legos to Lincoln Logs and gears to bricks, this camp is perfect for that future engineer in your family who is ready to combine their skill of building with the world of animals. Campers will create habitats and exhibits, and work together to plan new expansions for the Alligator Farm.
Zooper Heroes (Best of 2019)

June 29th – July 3rd
There's something strange going on around here… calling all Zooper Heroes to save the day! This week campers will solve mysteries with their trusty Ambassador Animals Sidekicks. Save the zoo and figure out who is making all of the animals disappear! Could it be the evil Hornswoggler has returned?
Art Zoofari

July 6th – 10th
Animals come in all sorts of shapes, sizes, and colors. In this camp, you will be inspired by our zoo animals to create works of art. Whether you are the next Picasso or you simply enjoy arts and crafts, this camp will unleash your creative spirit. This camp has loads of fun crafts to take home.
Camp Catch 'Em All

July 13th – 17th
From turtles to panthers and crocodiles to eagles, the world of Pokémon very closely resembles our Florida wildlife. In this camp we will look into the adaptations of real animals and match those to our Poke-partners. This camp is full of games, interactive activities and up close animal meet and greets.
Sharks and Minnows: Just Keep Swimming

July 20th – 24th
Is under the sea more your camper's speed? In this camp we will look at the wonders of the ocean and learn all about the amazing predator and prey relationships in the big blue. Be sure your camper is ready to get wet as we will have plenty of water-related activities throughout the day.
Fossils, Feathers, and Fangs

July 27th – 31st
We will take a step back to the age of the dinosaurs when brontosaurus roamed the earth and apex predators, like the Tyrannosaurus Rex, ruled the landscape. Campers will explore the extinct animals of the past and learn about how we can save wildlife today. This week of camp will discover what a modern day dinosaur looks like and even get to meet the closest living relatives of the velociraptor!
A week in the life of a Zookeeper

August 3rd – 7th
Not ready to go back to school yet? Join us for a week of experiencing all the fun of being a keeper right before school starts! Campers will get hands on experience prepping animal diets and learning how to train an animal. This week will feature guest talks by some of our Animal Care Keepers and come close up encounters. A love and excitement for animals is required, khakis are not.

COUNSELOR-IN-TRAINING PROGRAM
Available only during the summer, the Counselor-in-Training (CIT) Program is designed as a volunteer program for students entering 7th through 12th grade. CIT volunteers assist counselors with groups of Zoo Campers as an extra set of eyes, ears, and hands to help with crafts, games, and other activities. CITs are expected to show a positive attitude toward Zoo Camp, Zoo Campers, The St. Augustine Alligator Farm Zoological Park, and its staff. As role models for the younger campers, CITs must abide by all Zoo Camp rules. Any CIT showing a lack of maturity, cooperation or positive attitude will be asked to leave. After camp has ended for the season, each CIT will receive a letter outlining the number of hours volunteered. Any additional paperwork required by schools in order to receive volunteer credit must be completed by the CIT and then submitted to the Curator of Education for a signature.