wading bird rookery
Native herons, egrets, spoonbills, and wood storks seek the security of our Alligator Swamp to roost and raise their young. With hundreds of alligators swimming beneath the oak branches, the birds know their young are safe from tree-climbing predators. Our wooden walkway allows for incredibly intimate views of Florida's magnificent wading birds on their nests. Photographers achieve award-winning shots here every year. Visit from March through June to see the most nesting activity with the birds in full breeding plumage.
The Rookery Blog includes status updates and natural history information about the native bird rookery at the St. Augustine Alligator Farm. The natural alligator swamp area of the park attracts hundreds of pairs of wading birds that nest literally feet away from the boardwalk. This blog contains a plethora of nesting activity data so photographers and bird watchers can best plan their visit.
Regularly recorded rookery updates are also available at (904) 824-3337 option 9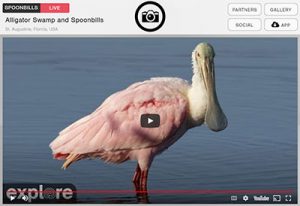 PHOTO CONTEST!
The Wading Bird Rookery is a popular location for both amateur and professional photographers. Click here to learn more about our popular Photo Contest and to see gorgeous winning photographs!
TYPICAL ROOKERY SCHEDULE
Mid February
The first pair of Great egrets arrive around Valentine's Day. More are close behind and begin nest building. Roseate spoonbills stagger their nests throughout the season, arriving as early as mid-January!
Late February
Great egret pairs continue to arrive, along with some Wood storks. The Greats start to lay eggs. Roseate spoonbills are nest building.
Early March
Great egrets and Wood storks continue to flock in.
Mid March
Most Great egrets are incubating eggs. The Wood storks begin to lay. Spoonbill chicks likely.
Late March
Great egrets chicks start hatching out. Most storks incubating eggs. A few of the Snowy egrets, Little blue herons, and Tri-colored herons start arriving. The Snowys waste no time and immediately lay eggs.
Early April
Wood stork chicks start hatching. Great egret chicks are starting to get to a good size. Snowys, Little blues, and Tri-coloreds are laying eggs. Cattle egrets start showing up. Numerous spoonbill chicks in multiple nests possible.
Mid April
The Green herons start nesting within the park (not the rookery). Still lots of displaying birds of every species. Spoonbills still nest building, incubating, and hatching.
Late April
Rookery is mass chaos. Snowy chicks start hatching. Wood stork chicks are screaming constantly. Great egret chicks are pretty big. All of the smaller species have arrived.
Early May
There are chicks of every species in the rookery at this time, but still displaying from all species with the exception of the wood storks. Green heron chicks hatching out within the park.
Mid May
The Great egret and stork chicks are giant. There are chicks of every size from every species. Many species still continuing to display.
Early June
Nothing has even fledged yet. Displaying is over but many birds still on eggs. Chicks everywhere. Latest observed hatching of spoonbill eggs.
July
Fledglings are everywhere. Still a few nests with smaller chicks.
August
Nesting season is complete though a few stragglers remain. The majority of the adults have begun migrating south.