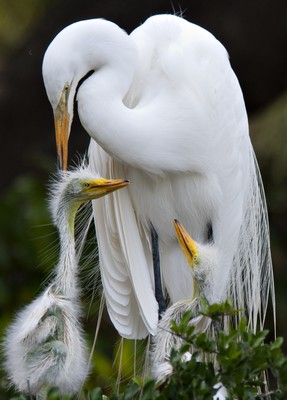 17 Dec

2012 End of Season Report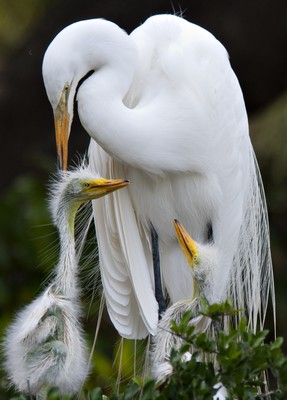 Photo by Jill Carney
This year's rookery season started out strong after a mild winter.  The Great egrets, always the first to arrive, made their initial appearance almost two weeks early. The season was off to a good start and the possibility of our biggest rookery season yet seemed probable.  The arrivals of Tropical Storm Beryl on May 27th and Debby on June 27th dampened our hopes and the rookery's mood.
The Little Blue herons, Roseate spoonbills, and Wood storks were most affected by the storms since their chicks were young and these species are extra-sensitive to environmental conditions.  Little Blues and Roseates are both listed as Species of Special Concern in Florida; Wood storks are federally listed as Endangered. The storms disturbed their foraging and breeding sites, degraded feeding habitats, and reduced prey availability.  These issues were significant enough for these three species, but not for the remaining of the wading birds.
The Great egret chicks also appear to have been affected in the chart below, but most of their chicks were large enough and had begun to fledge.  Overall, the St. Augustine Alligator Farm's rookery had a good season and we look forward to 2013!
| | | | | | |
| --- | --- | --- | --- | --- | --- |
| | MAX ADULT | MAX NEST | MAX CHICK | POST BERYL | POST DEBBY |
| Cattle egret | 250 | 232 | 154 | 94 | 118 |
| Great egret | 148 | 130 | 127 | 127 | 52 |
| Green heron | 5 | 4 | 5 | 2 | 3 |
| Little Blue heron | 33 | 26 | 48 | 11 | 27 |
| Roseate spoonbill | 30 | 14 | 24 | 14 | 12 |
| Snowy egret | 264 | 153 | 153 | 153 | 130 |
| Tricolored heron | 100 | 73 | 148 | 148 | 97 |
| Wood stork | 129 | 72 | 124 | 110 | 73 |
| TOTALS: | 959 | 704 | 783 | 659 | 512 |