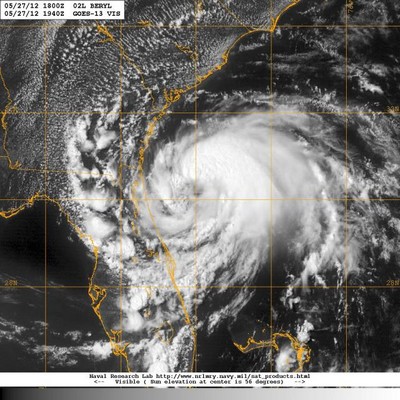 02 Jun

Post Tropical Storm Beryl Update 6/2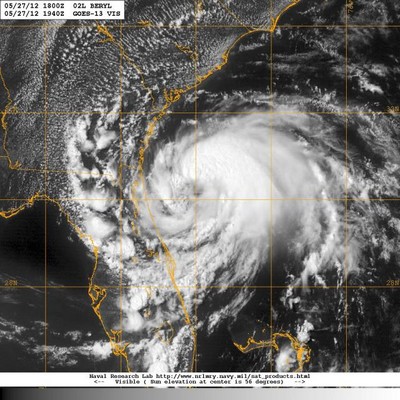 Photo courtesy of the Palm Beach Daily News
Memorial Day weekend is usually quite busy at the zoo.  Zookeepers spend more time mingling with inquisitive guests than working on animal projects. This year, the holiday weekend was instead spent preparing our collection for Tropical Storm Beryl.  While we were able to prepare our captive exotic animals for the storm, the wild wading bird rookery had to weather the hazardous conditions.  Beryl was the strongest tropical storm to ever hit the United States prior to the official start of the hurricane season on June 1st.  The rainfall was much-needed in this region of extreme drought, but the 70 mph winds we could have done without.
Initial estimates of close to 50% loss were made on Monday.  A large portion of the nests along the west side section of the boardwalk were completely gone, as were the birds. Either the birds flew the coop, the alligators ate well or, more than likely, both.  The rookery's field research team arrived on Friday for an after-storm count assessment of all adults, nests, and chicks. The results were both surprising and pleasing at the same time.  Almost all of the Wood Storks and Great Egrets survived.  Their chicks were the largest and able to successfully manuever into safety during the high winds. Some of the smaller species, such as the Snowy Egrets, have significantly increased their total nest and chick numbers since last weekend.  For them, environmental conditions are right for raising offspring! The biggest loss to our rookery was the demise of two-thirds of the Roseate Spoonbill nests.  Even if they choose not to attempt to reclutch this year, we have high hopes for their return next year. Since this species began nesting in our rookery in 2010, the numbers of pairs have increased each season.
Long story, short, the number of nests in the rookery has actually increased over the past week!
| | | | |
| --- | --- | --- | --- |
| NESTS | 5/26/12 | 6/2/12 | % loss |
| Wood Stork | 59 | 51 | – 4.7 |
| Roseate Spoonbill | 14 | 5 | – 64.3 |
| Great Egret | 61 | 60 | -1.6 |
| Snowy Egret | 90 | 115 | + 27 |
| Cattle Egret | 185 | 232 | + 25.4 |
| Tri-colored Heron | 64 | 61 | – 4.7 |
| Little Blue Heron | 15 | 23 | + 53.3 |
| Green Heron | 4 | 2 | – 50 |
| | | | |
| --- | --- | --- | --- |
| CHICKS | 5/26/12 | 6/2/12 | %   loss |
| Wood Stork | 124 | 110 | – 11.3 |
| Roseate Spoonbill | 24 | 14 | – 41.7 |
| Great Egret | 107 | 127 | + 18.7 |
| Snowy Egret | 150 | 153 | + 2 |
| Cattle Egret | 154 | 94 | – 39 |
| Tri-colored Heron | 112 | 148 | 32.14 |
| Little Blue Heron | 8 | 11 | + 37.5 |
| Green Heron | 5 | 2 | – 60 |