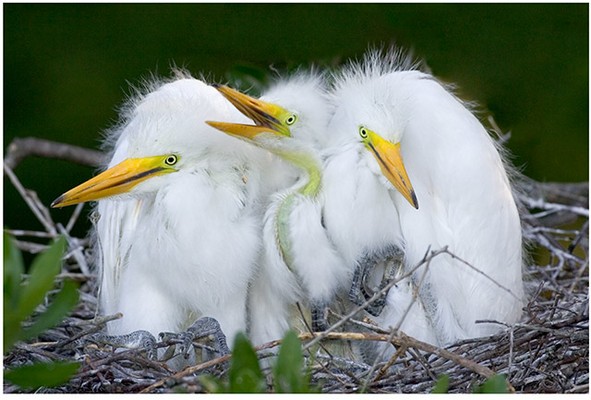 12 Apr

Rookery update 4/12

Photo by Scott Bourne
Written by Lauren Belcher
The rookery is in complete chaos as we move into mid-April!
The Great egrets were the first to arrive and the first to hatch. So far we have 5 chicks confirmed with several more to come. During last week's scientific census, the rookery contained 110 adult birds and 87 nests.
The Wood storks are right behind the Great egrets. There are 42 adult birds and 26 nests. No chicks have been spotted yet but they are due to hatch any day now.
Roseate spoonbills have been filling up the rookery with hot pink. Currently, there are 47 adult birds and 11 confirmed nests. Spoonies typically lay 2-4 eggs per clutch, so expect many photography opportunities of their chicks beginning within the next couple weeks.
The largest population of birds is the Snowy egret. There have been 124 adult birds counted with a total of 38 nests.
The Tricolored heron count is 49 adult birds and 25 nests. The Little blue heron count is 11 adult birds and 5 nests.
Last to arrive are the Cattle egrets and Green herons. The Cattle egrets built their first nest last week with three more close behind. There were 14 adult birds counted. Expect a large increase in their numbers within the next couple weeks.
The first pair of Green herons have built their first nest. It is located above the Cuban crocodile exhibit in Land of Crocodiles and those 2 adult birds are the only ones observed so far. Their nest is located between Crocodile Crossing platforms 11 and 12.
Come out to the St. Augustine Alligator Farm Zoological Park Natural Swamp & Rookery to see the Great egret and the Wood stork hatchlings!