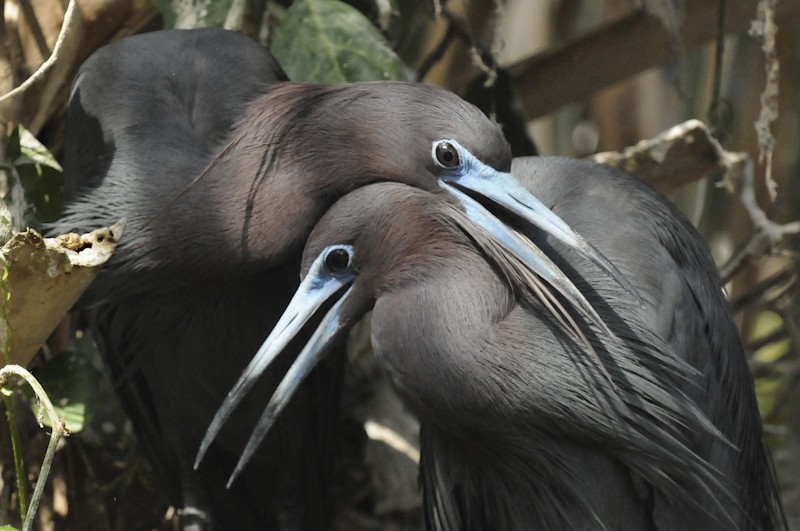 10 Sep

2018 End of Season Report

Little blue heron pair Photo by Susan Jarrett

This year's nesting season was a bit more out-of-the-ordinary. Though we always joke around that we are not privy to their schedules, a typical pattern has emerged over the years allowing us to guesstimate fairly accurately about who is nesting when. What made this year unusual? The location of their nests! Of course the majority of the wading birds prefer nesting in the swamp, but far more ventured out over other parts of the zoo, particularly over the Lagoon and the pond in front of our Conservation Center. Multiple species have taken a liking to the tops of the Cabbage palm trees instead of nesting in the Live oaks and Bald cypress trees where we would prefer they nest. It is difficult to monitor the nests in the palms and those trees are not as resilient to the havoc nesting wading birds inflict upon it.
Tricolored heron chicks Photo by Robert O'Toole
Regardless, the overall rookery was full of begging birds with a high fledgling success rate this year. The fishing must have been excellent.
| | | | |
| --- | --- | --- | --- |
| | MAX ADULT | MAX NEST | MAX CHICK |
| Cattle egret | 54 | 43 | 137 |
| Great egret | 151 | 124 | 148 |
| Green heron | 2 | 2 | 3 |
| Little blue heron | 41 | 34 | 46 |
| Roseate spoonbill | 94 | 59 | 96 |
| Snowy egret | 59 | 60 | 118 |
| Tricolored heron | 88 | 96 | 167 |
| Wood stork | 138 | 90 | 164 |
| TOTALS: | 627 | 508 | 879 |
As we manage the rookery to benefit the threatened species of concern, the Wood stork and Roseate spoonbill, the graph below shows how the zoo has been successful in improving the nesting habitat over the years. Wood storks first began nesting here in 2000 and spoonbills in 2010. An active Wood stork rookery over 10 years of age is extremely rare.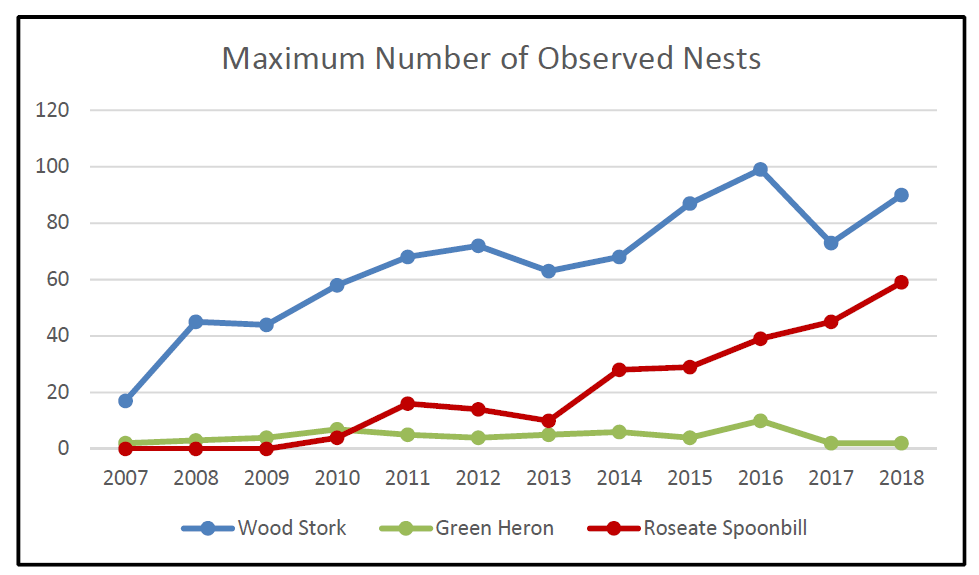 Cattle egrets are a roller coaster of nesting interest in our rookery. We are just fine with them not nesting here in large numbers as they have already colonized the rest of the planet! Great egrets and Tricolored heron nesting have remained stable and fairly consistent over the years, including this season. Snowy egret and Little blue heron nest numbers went down this year. These species are part of Florida's Imperiled Species Management Plan through FWC.
Every rookery season is different here at the park and we look forward to next season already! We just need a couple months first to do some maintenance when the alligators and birds are not raging with breeding hormones.