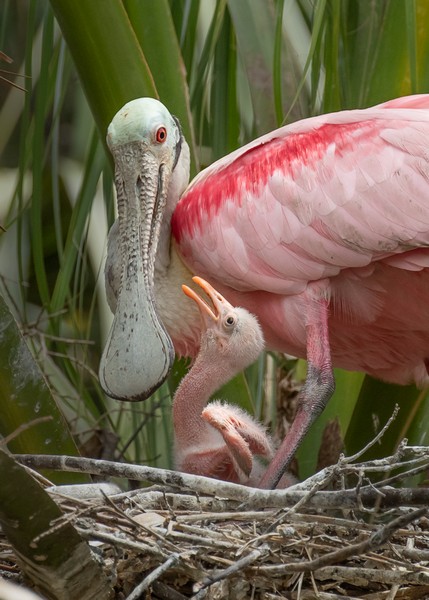 28 Feb

Typical Rookery Schedule

Photo by Terrie Jacobson

TYPICAL ROOKERY SCHEDULE

Mid February – The first pair of Great egrets arrive around Valentine's Day. More are close behind and begin nest building. Roseate spoonbills stagger their nests throughout the season, arriving as early as mid-January!

Late February- Great egret pairs continue to arrive, along with some Wood storks. The Greats start to lay eggs. Roseate spoonbills are nest building.

Early March – Great egrets and Wood storks continue to flock in. Trees may still be bare.

Mid March – Most Great egrets are incubating eggs. The Wood storks begin to lay. Spoonbill chicks likely.

Late March – Great egrets chicks start hatching out. Most storks incubating eggs. A few of the Snowy egrets, Little blue herons, and Tri-colored herons start arriving. The Snowys waste no time and immediately lay eggs. Spoonbill chicks possible.

Early April – Wood stork chicks start hatching. Great egret chicks are starting to get to a good size. Snowys, Little blues, and Tri-coloreds are laying eggs. Cattle egrets start showing up. Numerous spoonbill chicks in multiple nests possible.

Mid April – The Green herons start nesting within the park (not the rookery). Still lots of displaying birds of every species. Spoonbills still nest building, incubating, and hatching.

Late April – Rookery is mass chaos. Snowy chicks start hatching. Wood stork chicks are screaming constantly. Great egret chicks are pretty big. All of the smaller species have arrived.

Early May – There are chicks of every species in the rookery at this time, but still displaying from all species with the exception of the wood storks. Green heron chicks hatching out within the park.

Mid May – The Great egret and stork chicks are giant. There are chicks of every size from every species. Many species still continuing to display.

Early June – Nothing has even fledged yet. The displaying has started winding down but there are still birds on eggs. Chicks everywhere. Latest observed hatching of spoonbill eggs. Displaying is over.

July – Fledglings are everywhere. Still a few nests with smaller chicks.

August– Nesting season is complete though a few stragglers remain. The majority of the adults have begun migrating south.