Birthday Parties
CELEBRATE ON THE WILD SIDE!
Add alligators, lemurs, toucans, and parrots to the guest list when you schedule your child's birthday at The St. Augustine Alligator Farm Zoological Park. Perfect for children ages 3-11, our birthday party packages include animal masks for each guest, hands-on animal presentations, and a keepsake photo with an alligator or snake for the birthday child. Contact our Education Department to select a weekend for your party and get ready for the most memorable birthday celebration you've ever experienced.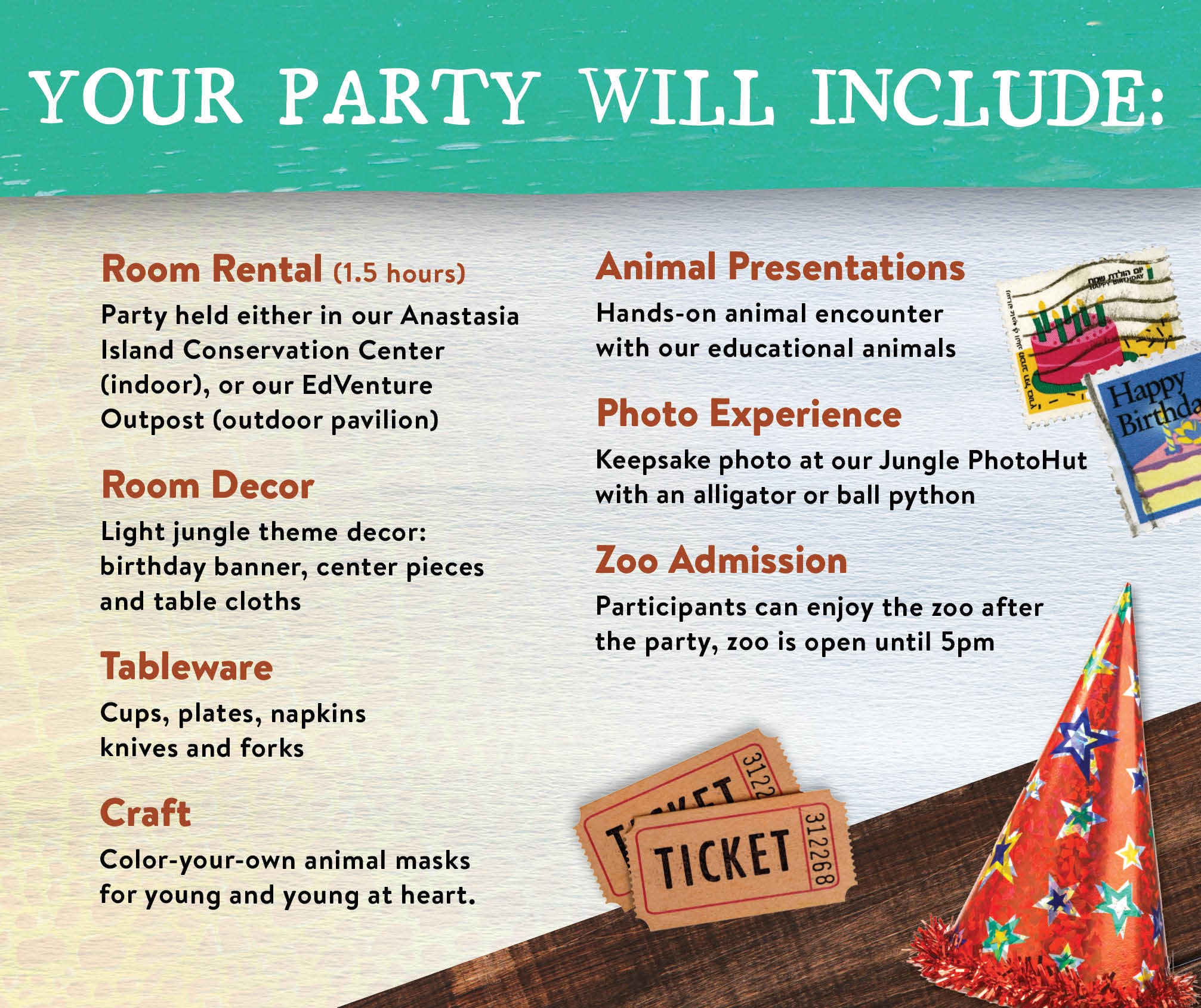 Parties are offered on Saturdays and Sundays at 10am only.
Our Education Department will assist you with selecting an available time slot.
Package pricing:
Prices are based on the total number of guests' attending the birthday party (both adults and children). Prices do not include tax, but do include admission into the park.
MEMBERS
Up to 10 guests: $270
11-15 guests: $315
16-20 guests: $360
21-25 guests: $405
26-30 guests: $450
31-35 guests: $495
CONSIDER BECOMING A MEMBER TODAY!
Enjoy a year's worth of discovery and thrills!
St. Augustine Alligator Farm members receive
a discount on party packages.
ADDITIONAL PARTY GUIDELINES
SCHEDULING AND PAYMENT:
Your party must be scheduled at least two weeks in advance. A $100 non-refundable deposit is required to hold your date and time. Full payment and party contract must be received by the Wednesday before your party. If payment is not received, your party will be canceled. Cancellations must be made at least 72 hours in advance to ensure refund minus deposit. If cancellation is not made at least 72 hours in advance, no refund will be given.
NUMBER OF PARTICIPANTS IN YOUR PARTY:
If the number of people exceeds the amount allotted in the confirmed package, you will be charged for the next higher package. The maximum number of people cannot exceed 45. Children under 2 years of age who participate in the party activities will count toward the total number of people.
PROHIBITED ITEMS:
Balloons, piñatas, noise makers, straws, lids, confetti, and alcohol are not permitted at the St. Augustine Alligator Farm.
PARTY LOCATION & SUPERVISION:
The party group must remain inside the party room during the party. After the party, all guests will be allowed into the zoo. Supervision of children and other party guests is your responsibility. The Alligator Farm is not responsible for supervision of children or adults at the party.
PARTY ENTRANCE:
The party entrance will be at the Anastasia Island Conservation Center (just north of main entrance). Doors will open 15 minutes prior to your scheduled party time.
NON-MEMBERS
Up to 10 guests: $300
11-15 guests: $350
16-20 guests: $400
21-25 guests: $450
26-30 guests: $500
31-35 guests: $550
EXTRAS
Alligator food (one gallon bag): $20
Goodie bags: $5
Mining Bags for Gemstone & Fossil Panning: $8
Additional photo experiences: $10
Sample Party Schedule
10am – 11:30am Party
10:00am
Social time and greetings
10:30am
Cake service and gift opening
11:00am
Animal presentation
11:15am
Social time and goodbyes
11:30am
Party released into the zoo!